Favorite Links
The following links have been compiled for your convenience:
To be added, please make your request on our contact page.
---
Favorite Sites:
Hand Carved Pilot Figures From PilotPortraits©
Now, you can have a personalized, one-of-a-kind pilot for your R/C Airplane from PilotPortraits©, carved directly from LIGHT-WEIGHT contest-grade balsa to look JUST LIKE YOU! PilotPortraits© are unique to your likeness and individually hand-carved and painted using your photo reference so that they resemble YOU and nobody else. Finally, a pilot figure that will fit within your canopy and cockpit exactly as you've always wanted it to. Each pilot is made-to-order and scaled to fit your R/C Aircraft and yours alone.


Joel Kweskin, Caricaturist: Joel Kweskin is an award-winning artist and caricaturist who has captured the likeness and personalities of folks from all walks of life. From family and friends to business colleagues and industry leaders. From sports heroes to Hollywood stars. His illustrations and cartoons have been featured on billboards, ads and in the pages of national business publications. In addition to earning a Bachelor's degree in Journalism from Southern Illinois University, Joel is an alumnus of the nationally acclaimed High School of Music & Art in NYC, and later studied at the renowned Art Students League and The School of Visual Arts, NYC.
H
ave your special pet forever captured on stone, slate or canvas. Every 'Barrockas' is a custom made work-of-art; the perfect gift for every animal lover. Each portrait is hand-painted and signed by artist, Debbie Barracka.

Please visit this website by clicking the link below.
---
Thank you for visiting MikeBrentArt.Com®
www.JerseyModeler.com
Are you looking for those hard-to-findspecialty items for you RC Model Airplanes?
Jersey Model provides the most unique products available.
Gas - Glow - Smoke - Kerosene!
Fuel Dots, Fuel Cans, Pumps, Totes and More!
•••••••••••••••••••••••••••••••••••••••••
The Adventures of Taxi Dog!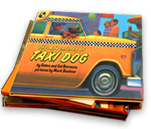 Imagine an illuminating, visually engaging ride with Maxi the Taxi Dog, a rescue canine who travels with his owner Jim in a vintage Checker Cab all over the diverse, thriving landscape of the "Big City." As you travel, you are experiencing most of Maxi's world through his physical and visual point of view while seeing new places, making new friends and helping people resolve their problems.
"The Adventures of Taxi Dog" brings to children's television an adaptation of the popular Penguin published book of the same name which has captured a loyal audience for over twenty years.
"The Adventures of Taxi Dog" powerfully supports a child's healthy emotional development.
For More Information, please contact:
Howard Grossman:
(203) 405-1706